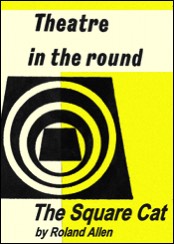 To navigate, click on the links in the bar above or in the right hand column.


World Premiere:
30 July 1959

Venue:
Library Theatre, Scarborough

London Premiere:
N/A

Venue:
N/A


Play Number:
1

Published:
No

Other Media:
No


Short Synopsis:
A house-wife arranges an illicit rendezvous at a country house with the rock 'n' roll star Jerry Wattis, who is not all he appears to be. Mayhem ensures when her husband, son and daughter also turn up.


Note:
Written under the pseudonym of Roland Allen.
The Square Cat
has been withdrawn for production and has never been published.


Production Availability
Amateur:
Not available for production

Professional:
Not available for production


The Square Cat
Quote

"Twenty years. I've wasted twenty years of my life on a man like you."
All research and original material in The Square Cat section of Alan Ayckbourn's Official Website is by Simon Murgatroyd M.A. and copyright of Haydonning Ltd. All other material is copyright of the named copyright holder. Please do not reproduce any material without permission of the copyright holder. For enquiries, email: archive@alanayckbourn.net